Video Tutorial
beeTrader is a platform for online trading unique in the Italian scenario because it combines the traditional trading on futures or shares, the option trading made simple and affordable for everyone thanks to functions that are not found in any other software for online trading.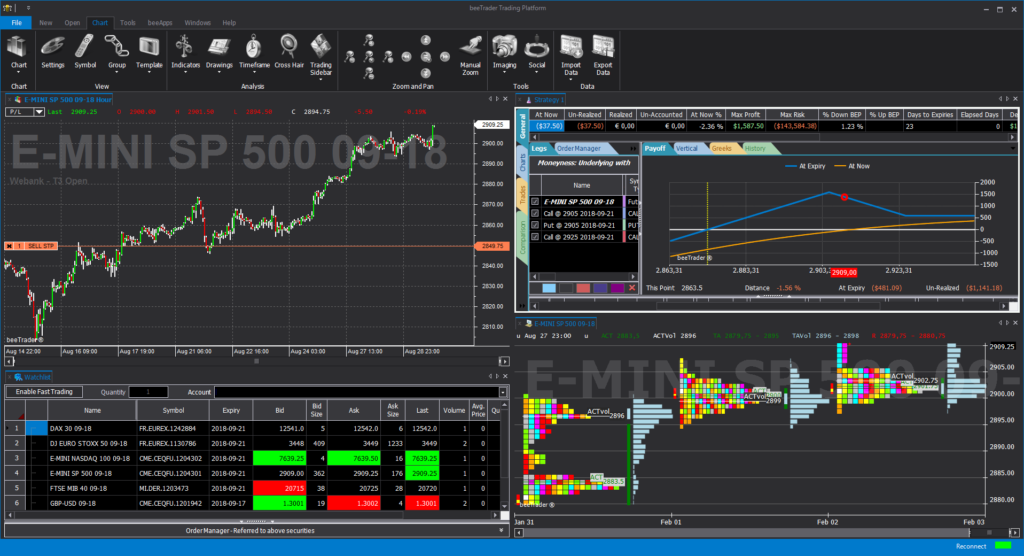 All the functions are illustrated in the various sections of the manual with examples and video tutorials.
We focus on this first page on some of the features of beeTrader as a whole, analyzing the accessible functions of the File menu.
Open in new window
This function allows you to open the selected document (Chart, Watchlist, OverSpread Scanner, Options Strategy, etc.) in a new new beeTrader window, the command is accessible from the File menu and also by right-clicking on the label (title) of the document .
There is also the Document Manager function (accessible from the Windows menu) that allows you to move documents from one window to another of beeTrader and to assign a name to the different windows.
Workspace
That is the work area. All documents that have been started in beeTrader, for example Chart, Watchlist, beePrice Distribution, Options Strategy, etc. can be saved or started in a single moment. The commands are available from the File menu.
File -> New ->  Workspace: create a new workspace by closing all currently open documents;
File -> Open -> Workspace :: opens a previously saved workspace;
File -> Save ->  Workspace: save the workspace currently in use;
File -> Close -> Workspace: closes the currently used workspace.
There is an automatic save function, this function is activated by default, is present in File -> Settings.
Connections
beeTrader allows multi-connection to multiple brokers simultaneously. At the start of the software you are asked to choose a broker to connect to, after which the software can connect other brokers from File -> Connections -> Connect Broker.
From File -> Connections -> View Connections starts a function that shows all the connected brokers and the number of connections for each broker. In this the user can monitor not to exceed the limits of simultaneous connections imposed by some brokers.
Settings
The Settings window collects the main settings of beeTrader.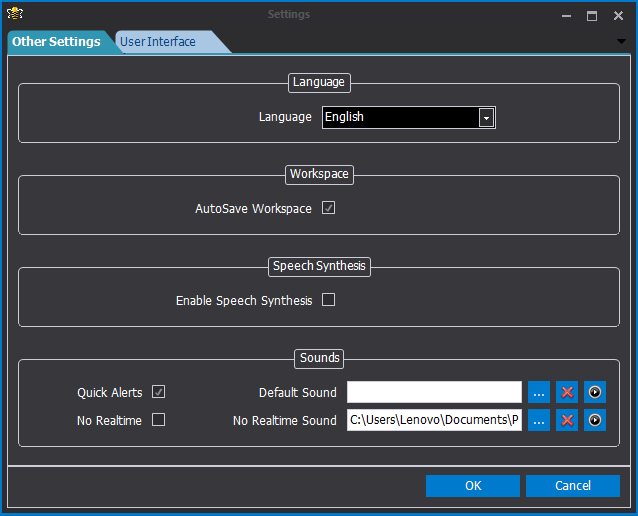 Language: choose the language you want to use in beeTrader. Software reboot is required;
Workspace: enable or disable automatic workspace saving every 5 minutes;
Speech Systhesis: enable or disable the voice synthesizer of the Chart. The speech synthesizer alerts the user when orders are executed in real market;
Sounds: enable or disable the alert sounds for Quick Alerts and the lack of real-time data updates.
A wide range of color themes are offered to meet the user's needs. Once the theme has been chosen, a preview is proposed. If the theme is changed, the software must be restarted.