Options Strategy – Trades
Video Tutorial
This section lists all the trades executed within the strategy, whether they are in paper trading or in real market. The properties displayed can be selected via the menu on the right mouse button (as we will see later).
We want to pay particular attention to the "Underlying Price (Last)" and "Reference Price" fields. These two values ​​that represent the value of the underlying at the time of the trade and the reference price of the underlying at the time of the trade may be different. This particular condition occurs when the trade is made on an option with maturity after the detachment of an underlying dividend, and a necessary condition is that the user has entered the dividend before the execution of the trade. It is very important for the calculation of the Greek that this operation is carried out correctly. For more information on dividends, please read the dividend page of the manual by clicking here .
Upon detachment of the dividend, always if inserted, beeTrader will generate a separate trade (bottom section of the window) and add the dividend to the realized of the strategy if it contains the underlying (as in the example 21/05/2018 the day of the detachment of the dividend of ENI were present in the strategy 500 shares).
To know the list and the explanation of the properties click here .
Right-click menu on trade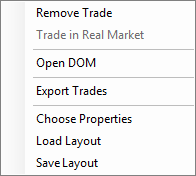 Remove Trade: delete the selected trade;
Trade in Real Market: if the trade is in paper trading, the DOM opens for real market execution
Open DOM: opens the DOM for the selected asset;
Export Trades: exports the list of trades in a file in * .csv format which can be opened with all the most common spreadsheets;
Choose Properties: opens the Choose Properties window to choose which properties of the strategy to display;
Load Layout: load a previously saved properties configuration;
Save Layout: save the currently displayed properties configuration;